JOE TRAKIMAS
Joe Trakimas was born in Toms River, New Jersey and raised in the small town of Denton, Maryland. Coming from a rural setting, he came to appreciate the beauty of the countryside around him. The collage of fields and hardwood forests was his playground and inspired his visual senses. At a young age, Joe became enamored with primitive living and the native people of the past that had inhabited the land. He began making his own traditional archery equipment and this is when his interests reached a new level. As he researched the making of bows and arrows of the Native Americans, his fascination with their culture and lifestyle grew. He became especially interested in the Plains Indians. As a high school senior he received the Maryland Distinguished Scholarship, competing with artists throughout the state. This award gave Joe encouragement to continue his art studies in, and his passion for the art.
After graduating from Towson State University in 1996 with a degree in art, Joe came to Montana to follow this interest and paint the rolling plains, expansive sky and its people. Montana gave him an endless supply of winding rivers snaking through pine filled mountains, forgotten barns situated in a sage filled prairie and abundant wildlife to paint and admire. His primary focus was the negative space created from the branches and foliage of the ponderosa pine and his depictions of their grandeur became notable in his paintings.
Joe continued his interest in creating authentically made Native American headdress, weapons, shields and clothing, primarily dating back to the mid 1800's Apsaroke (Crow) Indians. As his props and understanding of their culture expanded; he was able to paint the subject that had long peaked his interest. He developed many friendships on the Crow reservation and with his new friends he was able to recreate the vision of the past that was always a fascination for him. Joe Trakimas' hope is to honor the Native American way of life and educate the public through the images he creates, much like George Catlin and Karl Bodmer did in the past.
MUSEUM QUALITY REPRODUCTION
Created by artist Joe Trakimas.
Part of Joe's process is to research every component for each garment and other accoutrements he creates to ensure historical accuracy. Staying true to history every piece created is functional in the field, as well as esthetically pleasing. As you can see, every detail from the tanning of the leather to the sewing of the bead work is thoughtfully executed. After the garment and other pieces are to his satisfaction, he then goes to find his model, photographs them on location, finally returning to the studio to complete his piece.
GIRL WITH ELK TOOTH DRESS
30" x 24" graphite on board. $2400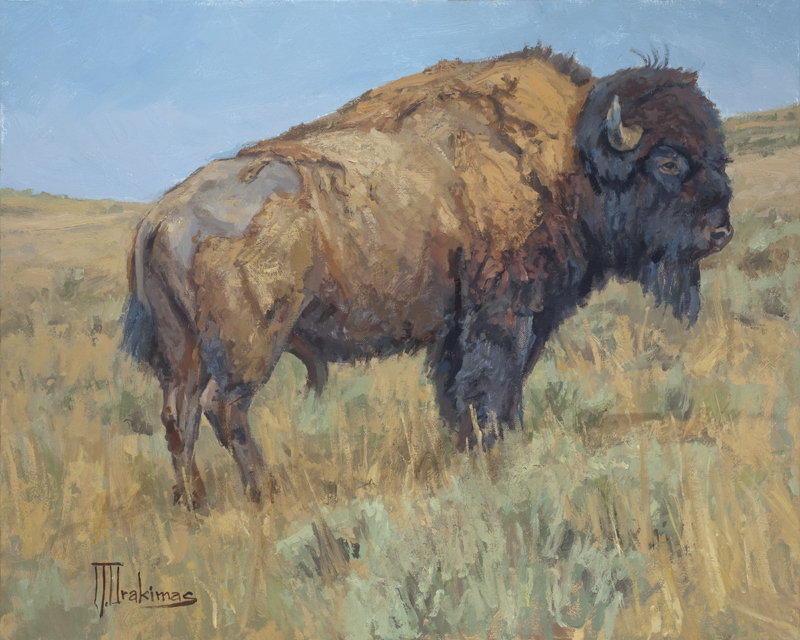 SHEDDING WINTER
16" x 20" oil on board, in a gold leaf gallery frame. $1800
TALKING ABOUT THE OLD DAYS
12" x 16" oil on board, in a gold leaf gallery frame. $1200